Preparing for Best Coaching in Delhi for IIT JAM Math 2023? Don't Miss the chance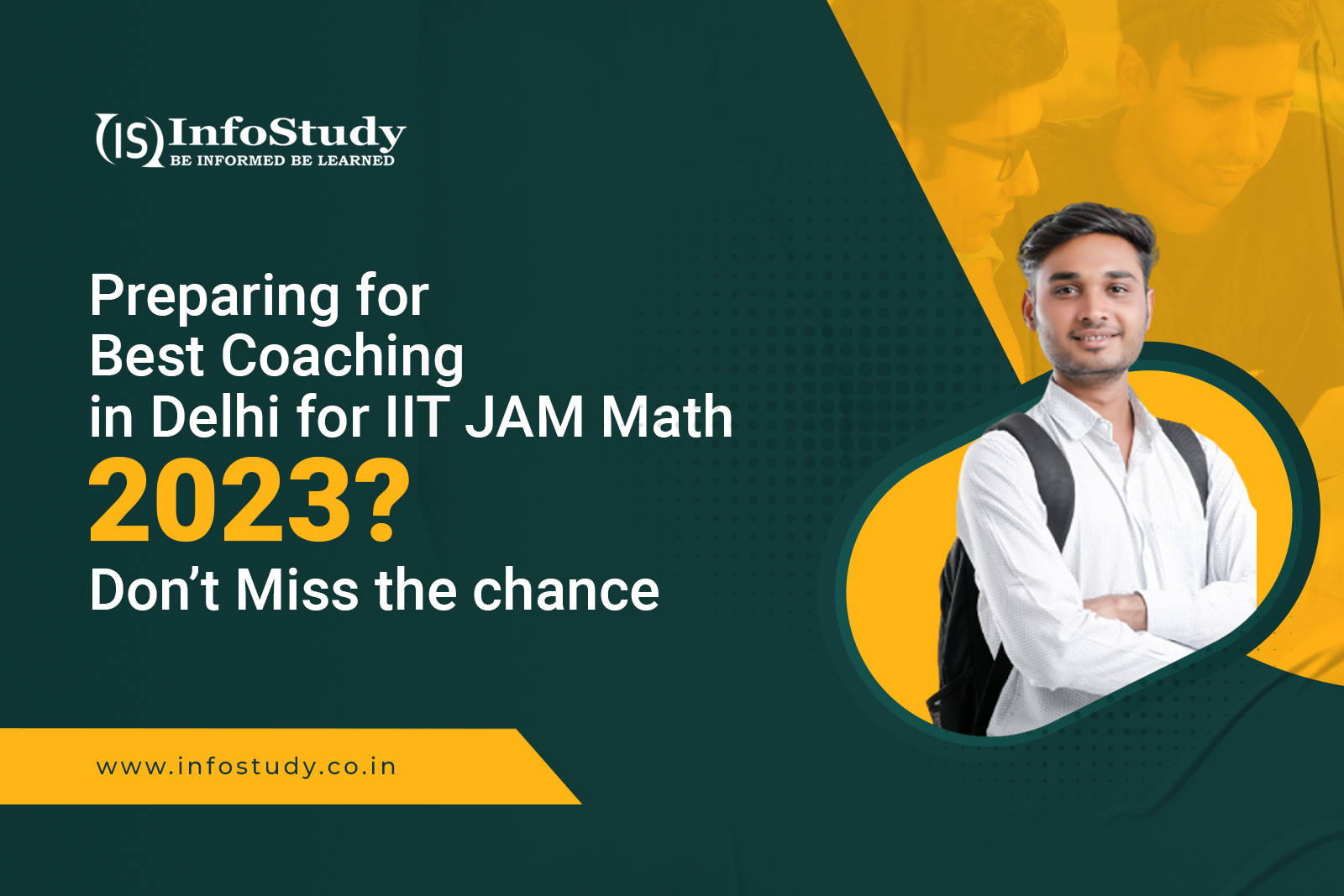 Are you searching for an institute for the best coaching in Delhi for IIT JAM? If yes, then you must know what kind of learning practise you want to gain which helps you to get good ranking in the entrance exam in your first attempt. Without any delay, Infostudy is one of the best coaching institutes that provides the best learning experience to clear your national-level entrance exam at a top-esteemed university.
About IIT JAM
IIT JAM is a national level entrance exam that stands for Joint Admission Test. It is an online examination that is conducted on the purpose of letting students get admission in their master's program in a top-ranked university. The test is conducted by Indian Institute of Technology (IIT) on behalf of MHRD (Minister of Human Resource Department) every year on a rotational basis.
Eligibility Criteria
Following are some requirements that you need to know before giving exam for IIT JAM:
Aspirants must pass a bachelor's degree from any recognized board with at least 55% marks (General category) 50% marks for (SC/ST/PWD Category.

No age limit required for this entrance exam.
2023 Syllabus for IIT JAM 
The syllabus of IIT JAM mathematics is designed according to the 10+2 level. Here is a list of some topics that students need to practise:  
Calculus of Single Variables
Calculus of Two Variables
2023 Exam Pattern
Essentials of Exam Pattern

Details

Total Number of Questions —————————–

60

Total Sections ——————————————–

3 Sections (A, B & C)

Types of Questions —————————————

Section A (MCQ)

Section B (MSQ)

Section C (NAT)

Number of Papers —————————————-

7

Negative Marking —————————————-

Only in Section A 

Total Marks ———————————————–

100

Exam Duration ——————————————-

3 Hrs
Study Material 
The study material for IIT JAM by a coaching institute can vary depending on the institute. However, most institutes will provide a course book that covers all the topics that will be covered in the exam. The book will usually include practice questions and mock exams to help students prepare for the test. 
Additionally, most institutes will also provide online resources, such as video lectures and revision notes, to help students prepare for the exam. Similarly, at Infostudy, students can get very helpful study material for the best coaching in Delhi for IIT to keep their practice on the right track. 
Previous Years Question Papers:

Our study material includes previous years questions papers in order to continue students' learning. 
Recorded Video Lectures:

Recorded video lectures at Infostudy let students' practise visually with our expert trainers.
Doubt Sessions:

The doubt sessions at Infotudy clear all the concerned concepts of students related to maths at once. 
Online Test Series:

With

Online Test Series

we provide students' a real-time examination experience. So, they can give their 100% in the real exam as well. 
About Infostudy
Infostudy is one of the best online coaching institutes for IIT JAM Mathematics in Delhi that provides an exceptional coaching of IIT JAM mathematics with the expert trainers and in a manner so that students can clear their entrance exams easily. The coaching trick helps students to clear each and every doubt with their practice side by side. The faculty at Infostudy is only here to help students and if any students have any doubt in a particular concept of maths the teachers will repeat the topic for student's better understanding. Taking care of students' condition, the institute also provides an online course of IIT JAM in which each concept of the syllabus will be covered as in offline mode. So that students who could not make up to present physically in class, they can attend online classes just by downloading the official app of Infostudy. 
Paying equal attention to each student helps them be dedicated and focused towards their goal. With that, the faculty keeps motivating students with their everyday learning and continuously guides them until they have clearance about each concept. The coaching institute also aims to provide advanced level coaching, so that students can solve any equation without any doubt. 
Why choose Infostudy for IIT JAM?
Self-determined Learning:

Self-determined Learning makes students take the initiative to determine their own learning needs, set their own learning objectives, find their own resources, apply problem-solving techniques, and evaluate their learning in order to question preconceptions and develop their capacity for learning.
Cost-effective:

Infostudy believes in providing quality learning but at an affordable cost. 
Access to course materials:

By joining infostudy, students can get access to study material which is a vital part of their learning. 
Access to expert instructors:

Through offline as well as online courses at Infostudy, students can access to meet the experts and can clear all their doubts. 

IIT JAM Previous Years Papers:

The previous question papers of IIT JAM enables students to enhance their learning skills with each their each practise. 
Conclusion 
Altogether, Infostudy, IIT JAM Maths Coaching Institute in Delhi, provides an exceptional learning experience to students and assists them in achieving good ranking in the national level entrance exam to get admission in their selected education institute to study in PG Program. 
Frequently Asked Questions (FAQs)
Is it easy to clear IIT – JAM?
Ans IIT JAM is one of the toughest entrance exams to clear. But, it can become easy if you have practised a lot and also have the right mentor to train you. 
Do I need coaching for IIT-JAM?
Ans. Yes, it is highly recommended to join a coaching institute for preparing IIT JAM as an institute can teach you better about each and every concept with proper learning experience. 
What is the best coaching for IIT-JAM?
Ans.  Infostudy is one of the best coaching institutes in Delhi for IIT JAM. With proven results of students you stop confusing about searching for the institute for the best coaching in Delhi for IIT JAM. 
How can I crack IIT JAM easily?
Ans. With the help of a finest coaching institute you can easily crack the IIT JAM exam through right learning practice and expert mentors.