CSIR NET Mathematics Coaching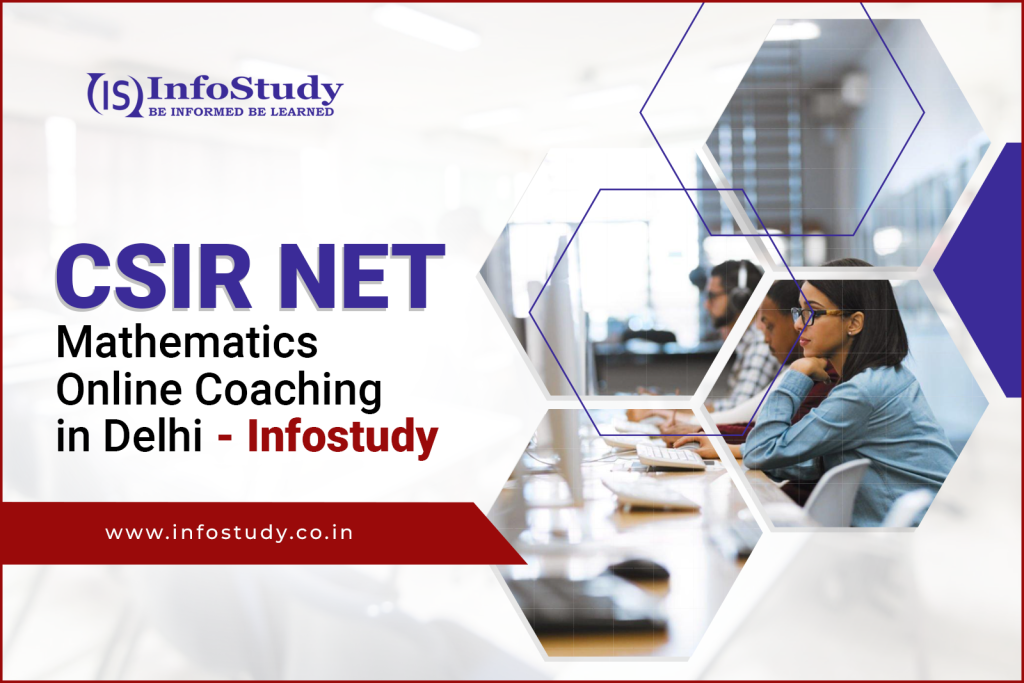 Infostudy is renowned for offering premier coaching for CSIR NET Mathematics in Delhi, with a steadfast mission to equip candidates for success in the CSIR NET exam. With over one decades of experience, Infostudy has consistently delivered top-ranking results in the realm of CSIR NET MATHEMATICS COACHING.
Our students' achievements serve as a testament to our unwavering dedication and commitment to excellence. At Infostudy, our goal extends beyond academic success; we strive for the holistic development of our students' personalities. We cultivate an enriching learning environment that encourages students to delve into meaningful educational experiences, fostering analytical, conceptual, logical, and mathematical prowess to propel them toward their ultimate career aspirations.
Our educational approach doesn't stop at academics; we also instill moral and ethical values in our students. Infostudy Academy is dedicated to advancing the cause of quality education, especially in the critical field of Mathematics, and aims to pioneer new initiatives that contribute to the betterment of education.
The UGC CSIR NET, officially referred to as the CSIR UGC National Eligibility Test, is a prestigious nationwide examination within India that is jointly administered by the Council of Scientific and Industrial Research (CSIR) and the University Grants Commission (UGC). This examination serves as its primary function in evaluating the qualifications of individuals for the Junior Research Fellowship (JRF) and for potential appointments as lecturers in universities and colleges across India.
Individuals who have either successfully finished or are currently pursuing an M.Sc./BS-MS/BS/B-Tech degree, or an equivalent qualification in the domain of Mathematics, are eligible to fulfill the prescribed eligibility criteria.

Candidates who are currently enrolled in an M.Sc. program or have completed 10+2+3 years of education may also apply, provided they do so under the Result Awaited (RA) category. It is imperative that they ensure the attainment of qualifying marks in their respective degrees within the two-year validity period to become eligible for the fellowship, commencing from the effective initiation date.
The CSIR NET examination is held biannually to assess the eligibility of candidates aspiring to become Assistant Professors. These exams are conducted in June and December each year. Typically, the registration for the June session commences in March, while the December session's registration opens in September.
The examination date for the CSIR NET Exam December 2023 has been officially announced. The forthcoming CSIR-UGC-NET Examination is set to take place on the 26th, 27th, and 28th of December in 2023, in accordance with the notification from the Human Resource Development Group (HRDG).

Register now for Infostudy Crash Course for CSIR NET Dec '23 to crack the exam. Batch Starting from 2nd October. Limited Seats Left!
Call now : 9650838031
Infostudy is a dedicated provider of CSIR NET Mathematics coaching services, offering comprehensive coaching for CSIR NET Mathematics across India. Our students have the flexibility to choose between CSIR NET online coaching classes or offline CSIR NET coaching classes based on their individual preferences and convenience.
CSIR NET Mathematics
Class Type
Add On Benefits
Fees
Enroll Now
Offline Classes

Study Material
Latest Test Series
One to One Doubts Session
Assignment Discussion
Previous Year Paper Discussion

Rs. 29,000/-


Rs. 33,000/

Enroll Now
Crash Course

Study Material
Latest Test Series
One to One Doubts Session
Assignment Discussion
Previous Year Paper Discussion

Rs. 16,000/-


Rs. 20,000/

Enroll Now
Live Online Class

Study Material
Latest Test Series
One to One Doubts Session
Assignment Discussion
Previous Year Paper Discussion

Rs. 19,000/-


Rs. 22,000/

Enroll Now
Recorded Class

Study Material
Latest Test Series
One to One Doubts Session
Assignment Discussion
Previous Year Paper Discussion

Check on app 
Download Now
CSIR NET Mathematics exam study material is as follows. Please check link to know more