7 Tips To Ace Your Exam Preparation with Expert NET Maths Coaching in Delhi at Infostudy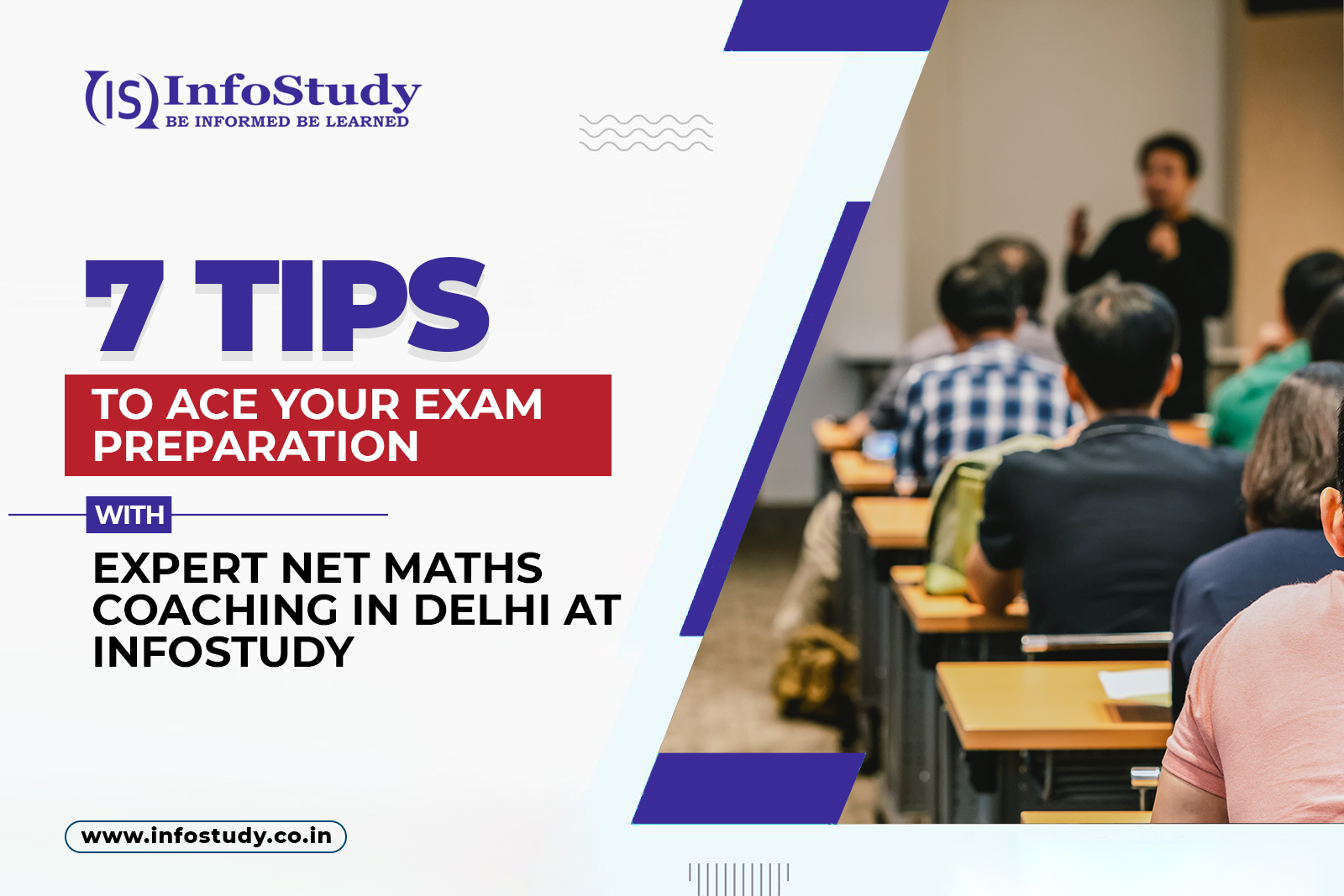 Are you planning to appear in the NET maths exam? Do not just appear but clear it in your first sitting with the exceptional NET Maths Coaching in Delhi at Infostudy. However, a good understanding of the CSIR NET Math program is essential to solving the exam. So, before applying for the exam, what are the things that you should know to be proficient at solving maths equations in such a crucial exam?
You must be familiar with CSIR NET Mathematics to begin thorough preparation for the exam. You will have huge career opportunities after taking the CSIR NET Mathematics and opportunities after passing the exam. As a result, we have included a brief overview of CSIR NET Mathematics, its eligibility criteria, the latest exam pattern and the 7 best tips to master maths in the NET examination.
What is CSIR NET Mathematics?
This CSIR NET exam is conducted by CSIR (Council for Scientific and Industrial Research) to determine the eligibility of Indian candidates who are awarded Junior Research Fellowships (JRF)/NET (National Eligibility Test) and also to determine eligibility for teacher appointments (NET) in several subjects within the field of science and technology. However, CSIR NET Mathematics is aimed at screening the teachers' eligibility for mathematics subjects. Teaching eligibility for qualified NET candidates is subject to meeting criteria set by the UGC.
Eligibility Criteria for CSIR NET Mathematics
A large number of JRFs are awarded annually by the CSIR to applicants after passing a qualifying test administered by the CSIR/NET twice a year. You must have a valid M.Sc./BS-MS/BS/B-Tech or any equivalent degree in Mathematics to meet the minimum CSIR eligibility conditions to appear in the Maths exam.
CSIR NET Maths Preparation Tips
1. Know the Exam Pattern
Knowing the CSIR NET exam template is always important when it comes to taking any competitive exam. It is important to prepare a strategy that covers the entire CSIR NET program without any fallbacks.CSIR NET Mathematical Sciences exam will have 20, 40 and 60 questions, however, candidates have to attempt only 15, 25 and 20 questions in Part-A, Part-B and Part-C respectively.
The CSIR NET math program consists of 3 sections: A, B and C.
Section A is about general abilities, containing 20 questions. Out of these 20 questions, you only need to attempt 15 questions with correct answers. Each correct answer will carry 2 marks however, there will be a negative marking of 0.5 for each incorrect answer.
Section B contains 40 multiple-choice questions (MCQs). You will be attempting 25 questions, for which 3 marks will be allocated to the correct answers and 0.75 will be deducted for each incorrect answer.
Section C comprises 60 MCQs from which only 20 need to be correctly answered to get4.75 marks and there will be no negative marking for incorrect responses.
2.  Check the Updated Syllabus
 To create the best strategic plan for the CSIR NET Mathematics Syllabus exam, you must be up to date with the latest exam model and the distribution of grades across the various modules to have a good understanding of the paper format.
You should have sufficient knowledge of the topics that will be covered in the CSIR NET Syllabus Mathematics. In particular, it is important to delve into the core topics of the Maths section of the CSIR UGC NET 2022 exam.
Unit 1
Unit 2
Complex Analysis
Algebra
Topology
Unit 3
Ordinary Differential Equations (ODEs)
Partial Differential Equations (PDEs)
Numerical Analysis
Calculus of Variations
Linear Integral Equations
Classical Mechanics
Unit 4
Descriptive Statistics
Exploratory Data Analysis
Standard Discrete and Continuous Univariate Distributions
Gauss-Markov Models
Multivariate Normal Distribution
Linear Programming Problem, etc.
3. Develop An Exam Strategy
Another helpful tip for CSIR UGC NET Maths test takers is to develop a clear strategy on how to pass the exam. When preparing for the CSIR NET Math exam, you must complete quizzes from past years to understand the format of the questions and to evaluate your work for speed and accuracy. To be more precise, make a study plan. For this, besides NET Maths Coaching in Delhi, we can help you make your personalized plan including test-solving sessions.
4. Solve Previous Year Question Papers
Applicants are encouraged to rely on previous years' papers and sample papers to practice their studies and prepare for the CSIR NET exam.
You can find and practice several CSIR NET practice tests and previous years' papers online to help you pass the CSIR NET math exam. Review the previous year's CSIR NET exam question papers and check the importance of the various topics, the type of questions asked, and the level of difficulty.
5.  Learn to Manage Your Time
Becoming a CSIR NET ace requires mastering short tricks and math formulas, and another key skill that can help candidates score higher is time management. While solving the last year's question papers, map on time with high accuracy.
6. Buy Latest Books
When purchasing the best UGC NET CSIR books, you should keep in mind that these books are based on the latest syllabus and exam template. Also, you should carefully review all relevant information, including the proper curriculum, and best learning resources.
7. Rely on Trustworthy Study Material
Spend some time looking for the best study materials for CSIR NET Mathematics, may it be online or offline and work with as many of them as possible, because it is impossible to pass the CSIR NET exam with only superficial knowledge and you must contact the best trainers who can assist you with the same.
How Do We Help to Ace Your CSIR NET Mathematics Exam Preparation?
We, at Infostudy, have helped thousands of our students secure high ranks in the CSIR NET Maths examination until now and are still assisting our new batches to clear their exam on the very first attempt.So, here's brief information about how we are providing peerless net coaching in Delhi for mathematics.
● Offline Coaching
If you are looking for dedicated classroom coaching, we have designed our regular batches as full-length programs. These regular classes are distributed in such a way that it runs over 4-5 months, where classes are conducted Monday to Friday contributing 4-5 hours daily.
● Online Coaching
Are you a working professional and cannot opt for regular classroom coaching? Do not worry, because, besides regular coaching, we have exclusive online courses for CSIR NET Maths for candidates just like you.
● Complete Topic Coverage
We complete all the topics of CSIR NET Maths and allow you to clarify your doubts with the best maths teachers.
●  Mock Tests
We provide a stimulus in the form of an Online Computer Based Test (CBT) that familiarizes you with the actual test format and increases your online test speed. It also allows you to learn time management skills during online tests.
● Classroom Notes
Our assignments and notes for each topic taught in the class are another plus point to speed up your preparation for such a tedious examination.
● Previous Year Question Papers
We cover at least ten-year-old question papers in our video lecture courses and discuss the solutions so that you can learn the strategies and tips to solve difficult topics very quickly.
● Topic-wise Courses
If you face difficulty in one or more topics related to CSIR NET Maths, we got you covered with our short topic-wise video lecture. Starting from the basics, these video lectures discuss all the important questions.
● Doubt-Solving by Experts
Our subject-matter experts including Dr. AP Singh, and Praveen Chhikara, to name a few analyse your queries and solve them, giving you the best tips and techniques Cumulatively, these are the best sure-shot ways we lend a helping hand to the NET maths aspiring candidates who bag the top ranks. Are you also wishing to crack the exam this time? Contact our team and opt for the best NET Maths coaching in Delhi.
Frequently Asked Questions (FAQs)
Q1: How to Prepare for the NET Exam in Mathematics?
A: To prepare for the NET Mathematics Exam, you can solve the previous years' question papers and sample papers available online, and make the best use of your time by making the best study plan and referring to reliable study material.
If you still face any issues while preparing for the exam, you can take the coaching as well.
Q2: Which online coaching is best for CSIR NET mathematical science?
A: You can find various online tutors to prepare for your NET maths exam but you should go with the best NET coaching in Delhi for Mathematics. At Infostudy, you will find expert trainers teaching you with exceptional teaching methodologies, providing you with the best study material, video lectures, doubt-solving sessions and much more.
Q3: How to Prepare for CSIR NET Mathematical Science?
A: Preparing for CSIR NET Mathematical Science needs your hard work, dedication, relevant resources to refer to, practice tests and much more. However, it is always better to get in touch with the best maths coach who can help you in your preparation, solve your doubts, and tell you tips and techniques to solve the math questions in seconds.
Q4: What are the major topics of the Mathematical Sciences Syllabus for CSIR NET 2023?
A: The typical syllabus of CSIR NET Maths does not change very frequently so the major topics that you may and you should study include Modern Algebra, Real Analysis, Linear Algebra, Differential Equations, Complex Analysis, ODE, PDE, COV & IE and a few more.
Q5: Which institute is best for CSIR NET mathematics?
A: Infostudy is considered to be the Best Maths Coaching Institute in Delhi with more than 20 years of experience that has helped thousands of aspirants secure top ranks in the CSIR NET mathematics exam.