Want To Crack IIT JAM in Your First Attempt? Join Infostudy – Best Coaching For IIT JAM in Delhi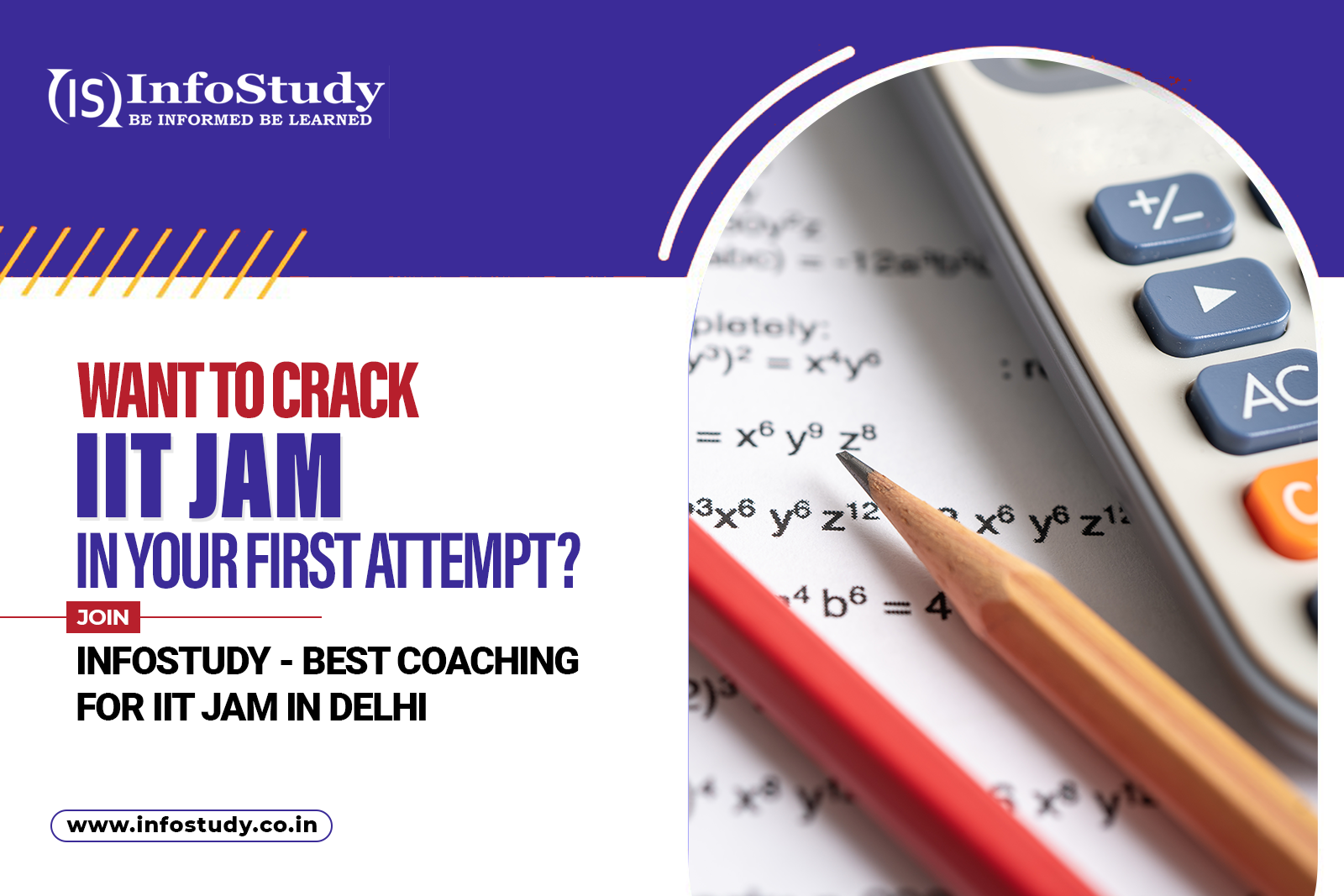 Are you wishing to take up your masters in the field of mathematics from the renowned IITs? If so, then you must begin preparing for the exam right away at the Best Coaching for IIT JAM in Delhi because the official exam is going to be conducted in February 2023 for which the registrations have already begun from September 7, 2022.
The IIT JAM (Indian Institutes of Technology Joint Admission Test for Mathematics) is an entrance examination conducted to screen candidates for admission to postgraduate programmes in Mathematics at the Indian Institutes of Technology.The exam is considered to be one of the toughest exams in India. The competition is extremely fierce and only the best of the best candidates are selected.Hence, being the Best Coaching Institute for IIT JAM Mathematics, we have compiled all the information that you need to know about this exam, including eligibility criteria, syllabus, examination pattern, and preparation tips.
Eligibility Criteria
If you seek admission into M.Sc. Mathematics in any of the IITs, you must meet the minimum eligibility criteria which require you to have completed your graduation having studied mathematics for at least two years.
Syllabus
The IIT JAM Mathematics 2023 syllabus includes the topics taught at the 10+2+3 level. For your reference, here is the complete IIT JAM Mathematics Syllabus 2023: –
Unit – 1: Sequences and Series of Real Numbers
Unit – 2: Functions of One Real Variable
Unit – 3: Functions of Two or Three Real Variables
Unit – 4: Integral Calculus
Unit – 5: Differential Equations
Unit – 6: Matrices
Unit – 7: Groups
Unit – 8: Finite-Dimensional Vector Spaces
IIT JAM Mathematics Exam Pattern
IIT JAM Maths Exam Paper will consist of three types of questions. These will be divided into three sections namely A, B, C-
Multiple Choice Questions (MCQ): As per the IIT JAM Exam Pattern 2023, you will have a choice of four answers from which you have to choose one as the correct answer
Multiple Select Questions (MSQ): Based on Paper Pattern guidelines, each MSQ type question is similar to MCQ. But, unlike MCQs, in MSQs you will need to choose one or more than one option as the correct answer. You will be awarded the full marks only after the selection of all the correct options.
Numerical Answer Type (NAT) Questions: For each NAT type question, an answer is a real number that needs to be entered using the numerical virtual keypad. No choices will be given for these questions.
Marking Scheme of IIT JAM Mathematics
The question paper will consist of 60 questions carrying a total of 100 marks. These questions will be divided into three sections with different types of questions (as given in the exam pattern section above). The following table will help you understand the marking scheme thoroughly:
Section
No. & Types of Questions
Marks
Negative Marking

A

10 MCQs
1 Mark Each
1/3
20 MCQs
2 Marks Each
2/3
B
10 MSQs
2 Marks Each
NA

C

10 NAT Questions
1 Mark Each
NA
10 NAT Questions
2 Marks Each
NA
9 Power-Packed Tips to crack the IIT JAM Maths Exam
One, who is well-prepared and equipped with relevant information, can easily clear the IIT JAM 2023 examination. Thus, to crack the exam on your first attempt, you must check out the mathematical statistics prep tips below for achieving a good score.
1. Know the Syllabus of the Exam Thoroughly : If you are preparing for IIT JAM Mathematics, you should prepare a concrete syllabus which allows you to concentrate on all topics and subtopics in this examination and also to get an accurate idea about how much course material you should cover. Our trainers at the Best Coaching for IIT JAM in Delhi equip you with all the topics of the syllabus very thoroughly through an online course as per your requirement
2. Make a List of Topics Making subject : wise lists of key topics and prioritizing these topics in preparation for IIT JAM exams is also critical to achieving better results. But, if you are unsure about how you can do this, do not worry at all because we have experts for your assistance who will not only teach you the topic-wise syllabus but will share the sure-shot tips to crack the same. They achieve this goal by organizing topic-wise video lectures and test series
3. Understand the Exam Pattern : You must study the JAM 2023 mathematics exam pattern as effectively as possible to get into the desired syllabus
4. Refer to the Section wise Books : You can go through the books separately for each of these sections, and you can get ready with the IIT JAM Books 2023 beforehand.
5. Practice from the Previous Year's Question Papers : Apart from the given books, you can also prepare by using the question papers and patterns from the previous years to analyse your efficacy and to get an idea about exam patterns, marking schemes, etc. We have created short courses covering at least the previous ten-year question papers.
6. Practice from the Sample Papers : After the syllabus is completed, you are advised to take JAM 2023 sample papers once again to raise your level of preparation.
7. Appear in the Mock Tests :The mock tests enable you to test your preparation level for the 2023 JAM. So, do not miss to check them as well. For this, you can follow opt for our online test series and check and improve your level.
8. Take Notes of Important Formulae : Taking notes on formulas is important to thoroughly learn the solving methods since this will be useful in final-minute preparation.
9. Seek Expert Advice : Our proficient tutors, like Dr. AP Singh and Praveen Chhikara, at Infostudy help you to crack the IIT JAM Mathematics exam in your very first attempt by teaching you the best-ever tips and tricks with which you can finally bag the top AIR.
Bonus
Learn to Manage your Time : No matter how difficult an examination is, if you know how to manage time wisely then it becomes relatively easy to crack it. The same rule applies to the IIT JAM Maths examination. Most people who crack the IIT JAM Maths examination are the ones who know how to manage their time wisely. They know how to prioritize their time and how to use it in the most efficient way possible.
Frequently Asked Questions (FAQ)
Q1: Which institute is best for IIT coaching?
A: Infostudy is the Best Maths Coaching Institute in Delhi that helps you to crack CSIR UGC NET, NBHM, GATE, TIFR, IIT JAM, and other competitive & recruitment exams involving higher mathematics.
Q2: Why do we need coaching?
A: Availing the IIT coaching from the subject-matter experts can help you understand the tedious concepts with ease by applying the sure shot tips and tricks which you may miss while preparing on your own. Without coaching, you may end up spending way more time on solving one particular question because you do not know & apply the trick or you may even study the extra topics that are not at all required.
Q3: Which is the best coaching for IIT in India?
A: Infostudy is the Best Coaching institute for IIT JAM Mathematics in Northern India for the past 20 years that has helped thousands of students crack the IIT JAM Maths exam in their very first attempt while securing the high ranks.
Q4: Which coaching is best for JAM?
A: Infostudy provides the Best Coaching for IIT JAM in Delhi wherein the expert trainers provide the best online test series, video lectures, and previous year question papers with solutions and tips.