Himachal Pradesh Public Service Commission Exam (HPPSC)
Himachal Pradesh Public Service Commission (HPPSC) is a recruitment body for the vacancies in State Services in the state of Himachal Pradesh through the most prestigious exam of the state, the HPPSC examination. HPPSC releases notification and invites applications to this examination every year for recruitment into various posts in departments/ministries under the government of Himachal Pradesh. So, eligible candidates can apply for this examination online after the release of notification.
About Course :
To check contents of our HPPSC Mathematics Course, Click here
This course is for the aspirants of the post of Assistant Professor (Mathematics) in Government colleges of Himachal Pradesh. Videos and study material are specially prepared to keep in view the syllabus and strategy to clear the written exam conducted by HPPSC for the above-said post.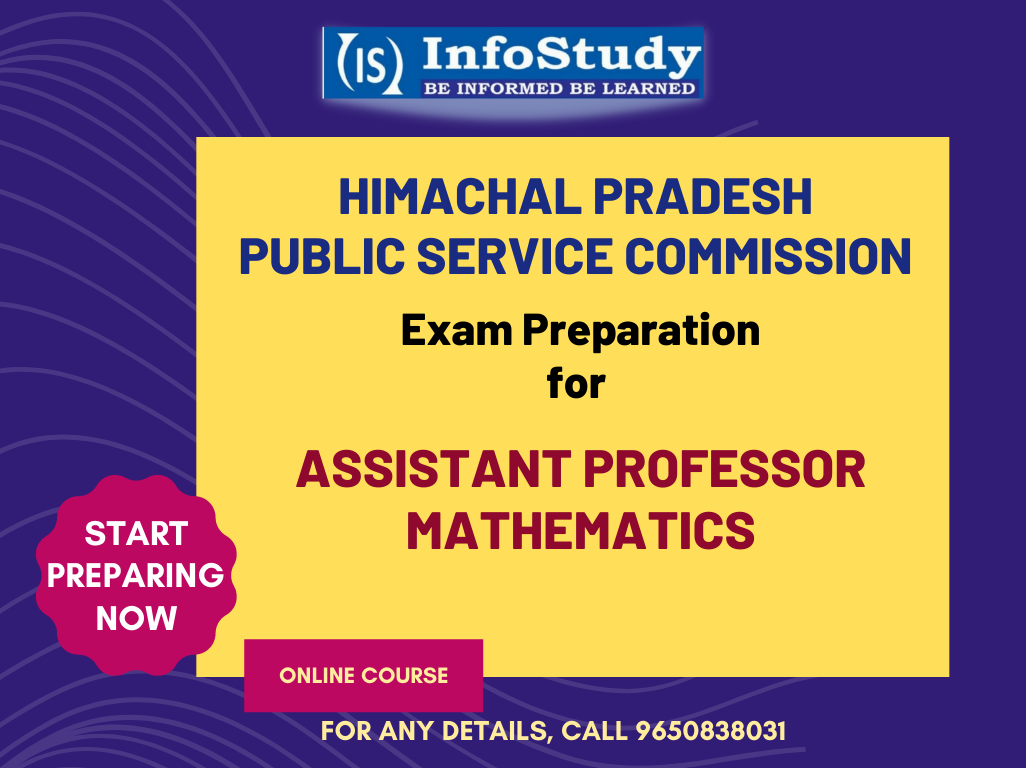 Salient Features of the Course:
1.Learn at your own Pace;
2.Starting from Basics, Video Lectures of all topics are provided. Important questions are discussed along with each topic to solve the questions quickly in the exam.
2. Hard copy of the study material will be sent to your address.
3. Online TESTs are included with SOLUTIONS to check your performance.
4. Doubts are taken by experts.
5. Questions from Previous Years Papers are discussed.
Infostudy is one of the best institutes, providing assistance to graduates and postgraduates in building their career in the field of mathematics. Infostudy aims at developing and fostering the interest and quality of students in the vast concepts of mathematics. Our Online Course For HPPSC Mathematics has been crafted by carefully keeping in mind
DEMO Lectures are provided in the course, which can be viewed by downloading our APP.
Download our App from play store.
Infostudy
Download Info study App by going through the link provided 
For More details, Click on the link below:
Org Code : INFOS
Or call us at : 9650838031, 9876788051
or fill this form , for us to Contact you.