Prepare your Academic learning with CSIR NET Coaching Institute in Delhi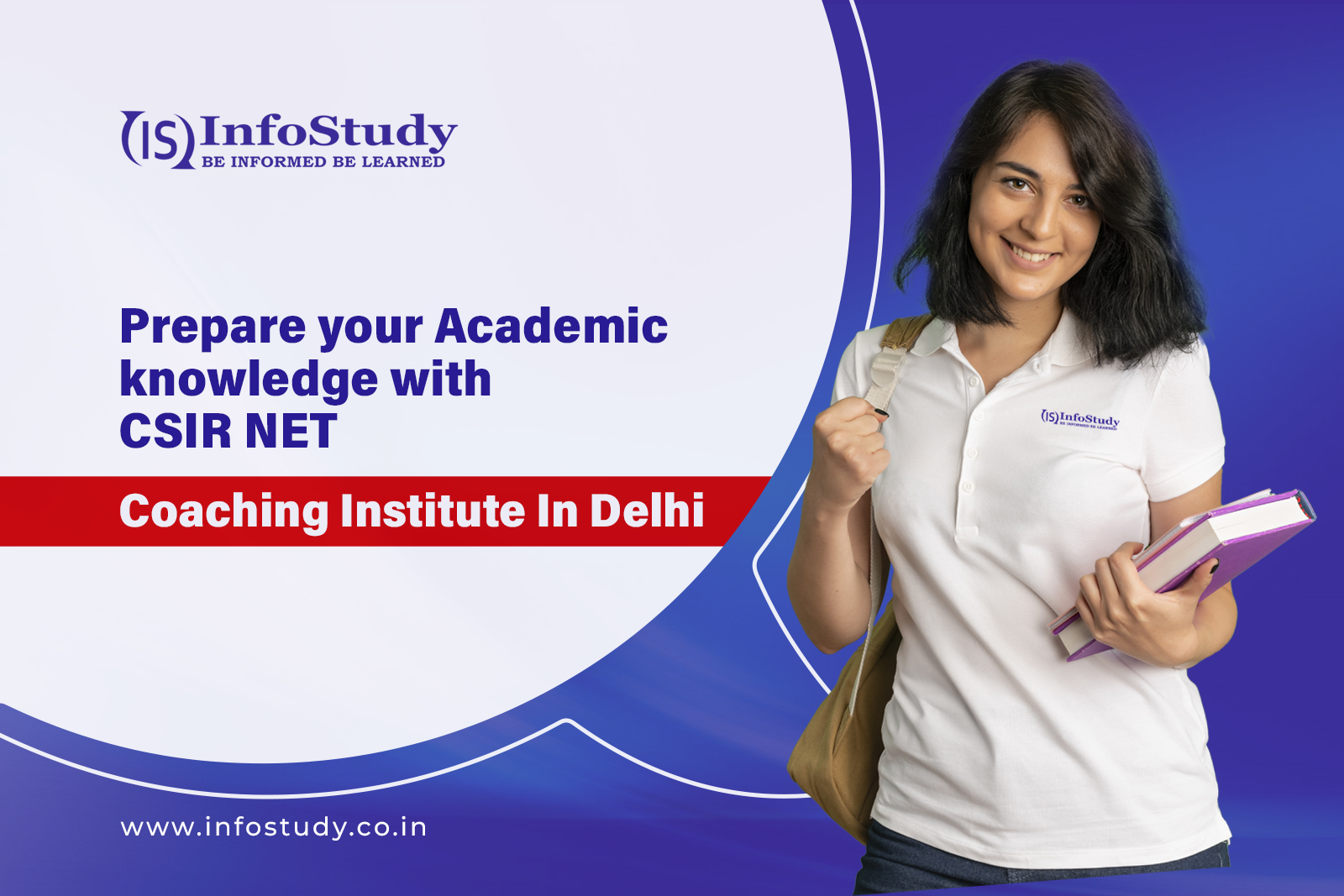 Seeking to get your Ph.D degree from the esteemed colleges/universities in India? But, also stressed about how to clear your entrance exam in the first attempt? Do not worry, every problem has a solution. And your solution is definitely Infostudy. Your learning practice with the best CSIR NET Coaching Institute in Delhi helps you to achieve high rank in the upcoming entrance exams held in June and December 2023. But first, you need to have a proper knowledge of this national level entrance exam. 
About CSIR NET 
The Best CSIR NET Coaching in Delhi is like a door to those students who are seeking their admission in the top-ranked colleges/universities for Doctoral or Ph.D Degree Program. This exam is conducted by NTA CSIR UGC NET on national level. Most of the colleges/universities give admission to students on the basis of scores of this exam. But it is not so simple to achieve high ranking in your first attempt. But, it can be possible through the Best Maths Coaching Institute in Delhi, Infostudy. 
Eligibility Criteria
To appear for the CSIR NET mathematics exam, first you need to get through the eligibility criteria. Without knowing or fulfilling such conditions, you will not beF able to give your exam. Following are some requirements that you need to fulfil to appear for this exam: 
Aspirants need to have their Undergraduate or Postgraduate degree in mathematics with at least 55% marks (ST/SC/PWD) or 50% marks (General/OBC).

The degree can be M.Sc, BS-4 years, BE/B.Tech, B. Pharma, Integrated BS-MS or any other related degree. 

The required age for the candidates is 28 years. 
Syllabus
Many of you asked about the syllabus for CSIR NET Mathematics. To answer, there is a vast syllabus for this national level entrance exam. There are a total 4 units in the syllabus comprising more than ten topics of mathematics concepts in total. Following is the table that helps you to understand the syllabus pattern easily:
Unit 1

Analysis

Linear Algebra

Unit 2

Complex Analysis

Algebra

Ordinary Differential Equations (ODEs)

Partial Differential Equations (PDEs)

Unit 3

Numerical Analysis

Calculus of Variations

Linear Integral Equations

Classical Mechanics

Unit 4

Descriptive Statistics

Exploratory Data Analysis
Exam Pattern
Following is the exam pattern in the table form to understand it appropriately. The exam paper will consist of objective-type multiple choice questions in each part i.e., A, B & C. The duration of the exam is 3 hours.
Sections
No. of Questions
Total No. of Questions to be Attempted
Marks
Negative Marking

Part A

20

15

30

0.5

Part B

40

25

75

0.75

Part C

60

20

95

0

Total Marks
200
Study Material Provided by Infostudy Experts
Every coaching institute provides students study material. Similarly, Infostudy, the best CSIR NET Coaching Institute in Delhi also provides excellent study material, but makes certain that students get the best benefits from it. 
Previous Years Question Papers:

Question papers of previous years are the core part to boost your practice and help you to cover most of the syllabus by solving it. 
Recorded Video Lectures:

At infostudy you can get recorded video lectures to enhance your practice in your free time. 
Doubt Sessions:

The one-to-one doubt session will let you to clear your certain doubts of a specific maths concept in plenty of time. 
Online Test Series (OTS):

To get real-time experience of exams, online test series help you to prepare you for the final exam. Following are some benefits of OTS:
Easy to test your performance
OTS exams are patterned as the real one
Topic wise tests are available
Can clear your doubts & mistakes
Availability
Fully settled questions
Salient Tips to Crack your Exam in First Attempt
Manage your Time:

Managing and using your time wisely can help you enough to do more practice. Even an hour of a day can automatically increase your practice and clears all your doubts from time to time. 

Understand the Syllabus in Detail:

Understanding your syllabus first can help you to make decisions about how to prepare and can divide the time according to it. 

Note down list of Topics:

Not only learning, but writing also imprints in your mind permanently to help you to remember the names of each concept of mathematics. 

Know the Exam Pattern:

If you understand the exam pattern clearly, there is no doubt to get less rank. Because if you practice as per the exam pattern, your chances of getting a high rank will increase. 

Section wise practice:

A section wise practice also ensures you a proper clearance of each maths concept. Without series wise practice will only make you confused. 

Practice from Sample Papers:

Like previous years question papers, sample papers also help you to practice the important questions that have high chances to come in the final exam's question paper. 

Give Online Test Series:

Online Test Series ensures you get enough practice and clear all your doubts by experiencing a real exam. 

Get Expert Advice:

Another tip to clear your CSIR NET Maths exam is to get some advice from an expert like a senior who already cleared his/her exam or a teacher. 
Conclusion
It is concluded that Infostudy, the best CSIR NET Coaching Institute in Delhi, is a perfect partner for your entrance exam practice. You can get not only clearance of concepts but also all important and latest information for a particular exam. As it is the main endeavour of this coaching institute to provide the students the best learning experience so that they can succeed in exams. 
FAQs:
Ques: Is CSIR NET Math Tough?
Ans. There is no doubt that CSIR NET Maths is a tough exam. But, with the right guidance of  CSIR NET Coaching Institute In Delhi and daily practice, you can easily clear your exam in your first attempt.
Ques: What is the benefit of qualifying CSIR NET?
Ans. Passing the CSIR NET Maths exam is itself an advantage to get admission in top-ranked colleges/universities for a Phd or Doctoral Program. 
Ques: Which book is best for CSIR NET Mathematics?
Ans. Dr. AP Singh's practice books are the best and very helpful because each information is mentioned appropriately that a student needs. The books allow the students to clear their doubts and the best part is there are also many tips & tricks mentioned so that a candidate can solve any maths concept easily.